A couple weeks ago, I spotted an amourous House Finch doing his best to attract a female with his offering of nesting material and a love song.
Hello, ladies! Look how handsome I am!
And I have just what we need to build our dream nest.


Aw, come on... look how cute I am.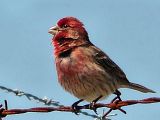 I even enjoy formal occasions.


Ah, yes, right this way, my little chickadee.


Uuuhhh, now what do I do?
Pshaw, ma'am...


Hey, where'd he go?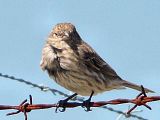 MEN!

Click thumbnails for larger view.