Every year about this time, one of these guys spends some time on the false aralia on my back steps. I've looked at 40 bazillion stinkbug pics, but have yet to come up with a match. The closest I did find was the green potato bug. But everything I've Googled says it lives Down Under. This picture is from last year.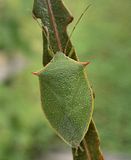 Here are this year's pics:
Are there any buggy people reading this that might have a clue?
Please click the pics for a larger view.